Case Law Summaries
Author: Anne L. Perry.
Source: Volume 19, Number 03, February/March 2014 , pp.41-44(4)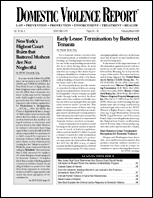 < previous article |next article > |return to table of contents
Abstract:
This article discusses the background and finding in the following cases: Acosta v. Acosta , 725 F.3d 868 (8th Cir. 2013); Werner v. State , 2013 WL 5808114 (Tex. Crim. App. 2013); People v. Sepe , 972 N.Y.S.2d 273 (N.Y. App. Div. 2013); Matter of Pastrano v. Nazario , No. O-01135- 09/11D (Sup. Ct., N.Y. 2013); In re Marriage of Priem , 153 Cal.Rptr.3d 842 (Cal. Ct. App.2013); Fortner v. Superior Court , 159 Cal.Rptr.3d 128 (Cal. Ct. App. 2013).
Keywords: Eighth Circuit Upholds Grave Risk Finding Based on High Risk of Abuse by Father; Texas: Court Properly Consolidates Stalking Offenses; New York: Court Reduced Murder to Manslaughter on Grounds of "Severe Emotional Disturbance"; New York: Defendan

Affiliations: .