Summary of Legal Literature
Author: Elana Jacobs.
Source: Volume 19, Number 03, February/March 2014 , pp.40-42(3)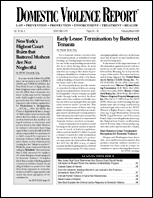 < previous article |next article > |return to table of contents
Abstract:
This column reviews the findings and conclusions of recent publications on legal matters. The challenges of transgender women are discussed in "Still Hidden in the Closet: Trans Women and Domestic Violence", by Kae Greenber, 27 Berkeley J. Gender L. & Just. 198 (2012); intimate partner violence taken up in "Batterers as Agents of the State: Challenging the Public/Private Distinction in Intimate Partner Violence-Based Asylum Claims", by Marisa Silenzi Cianciarulo, 35 Harv. J.L. & Gender 117 (2012); and also a summary of, "We Are Never Ever Getting Back Together: Domestic Violence Victims, Defendants, and Due Process", by Jessica Miles, 35 Cardozo L. Rev. 141 (2013)
Keywords: interstate flight domestic violence

Affiliations: 1: UC Hastings College of the Law.