US Supreme Court Will Hear Two Domestic Violence Cases
Author: D. Kelly Weisberg.
Source: Volume 19, Number 03, February/March 2014 , pp.33-35(3)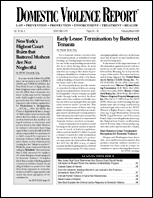 next article > |return to table of contents
Abstract:
Two cases involving domestic violence are currently pending before the U.S. Supreme Court. The first case, U.S. v. Castleman , 695 F.3d 582 (6th Cir. 2012), cert. granted , 134 U.S. 49 (2013), involves the interpretation and application of the Lautenberg Amendment to a state misdemeanor crime of domestic violence. The second case, Lozano v. Alvarez , 697 F.3d 41 (2d Cir. 2012), cert. granted , 133 S. Ct. 2851(2013), involves the application of the Hague Convention on the Civil Aspects of International Child Abduction in a custody case involving domestic violence. This article discusses those cases.
Keywords: gun owning and misdemeanor domestic violence; "straw purchaser"; international custody dispute

Affiliations: 1: Journal Editor, DVR.