Create a Tool to Help Judges Recognize and Address Litigation Abuse
Author: Julie Saffren.
Source: Volume 28, Number 03, February/March 2023 , pp.41-42(2)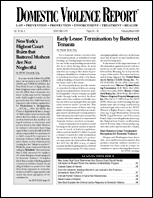 < previous article |next article > |return to table of contents
Abstract:
Litigation abuse can occur in proceedings involving domestic abuse, when the abusive party drags out litigation to the detriment of the other party and the court. It is beyond zealous advocacy: the goal is to harm the other party, often in retaliation after an intimate or family relationship has ended. Litigation abuse causes financial and emotional harm to the other party, disrespects the court, and thwarts the goals of professionalism and decorum. This article provides a series of "scripted" strategies intended to be used by domestic violence professionals, including court-connected professionals, to help judges in your state recognize and address litigation abuse. It is adapted from a comprehensive California-specific checklist created by the Family Violence Appellate Project (www.fvaplaw.org). That checklist, including additional authority and citations for the ideas herein, is available online at https://bit.ly/litabusetips. DVR readers are encouraged to review FVAP's content. It can help you create a tool specific to your jurisdiction, following a similar four-part model.
Keywords: Identifying Litigation Abuse in Practice

Affiliations: 1: Associate Editor.