Washington Supreme Court Issues Landmark DV Animal Cruelty Case
Author: Katie Utehs Panzer.
Source: Volume 28, Number 02, December/January 2023 , pp.17-21(5)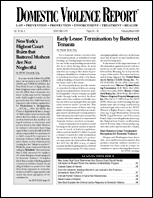 next article > |return to table of contents
Abstract:
Domestic violence experts have long recognized animal cruelty as one of the ways abusers control and harm their partners. Perpetrators will physically harm beloved pets to hurt their intimate partner emotionally or threaten harm to the pet as a means of controlling their partner. In February of 2022 the Washington State Supreme Court recognized this form of abuse, issuing a ruling holding in part that animal cruelty may be designated a crime of domestic violence. The designation allows for additional protections for the victims — from priority court scheduling to domestic violence restraining orders. Court personnel and those persons who work in the domestic violence space should take note of animal cruelty as a form of domestic violence and an indicator of it. This article reviews the facts, trial, jury findings, and sentence in State v. Abdi-Issa; the appellate court ruling that set aside part of the conviction and a restraining order that had been imposed; and the Washington State Supreme Court's reversal of the appellate ruling, reinstating the aggravated sentencing terms and order of protection. The article goes on to examine other important court decisions in the area, summarizes recent research establishing a clear link between animal cruelty and intimate partner violence, and concludes with recommendations for legal and counseling advocates.
Keywords: Animal Cruelty and Domestic Violence; State v. Abdi-Issa; Animal Abuse Registries; People v. Kovacich

Affiliations: 1: Napa County District Attorney's Office.