Case Summaries: "Hague" Child Removal; Restraining Order Violations
Author: Anne L. Perry.; Julie Saffren.
Source: Volume 28, Number 01, October/November 2022 , pp.12-15(4)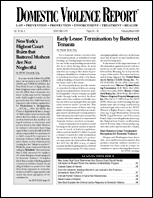 < previous article |next article > |return to table of contents
Abstract:
Our regular review of important court decisions analyzes the U.S. Supreme Court decision in Golan v. Saada, 142 S. Ct. 1880, in which it returned a Hague Convention case to the U.S. District Court to properly consider whether a child could be safely returned to his home country, where there was "no dispute" that the child's father perpetrated violence against the mother. In a North Carolina case, State v. Tucker, 867 S.E. 2d 924 (N.C. 2022), the criminal case for violation of a restraining order turns on whether the defendant knew he was restrained by a one-year protective order granted just the day before. The defendant did not attend that civil hearing but had been properly served by a sheriff with the ex parte order in August. Given the confusion created by the process illustrated here, North Carolina may wish to follow the lead of other states and specify on their civil form AOC-CV-305 giving Notice of the Court Hearing that "A judge may make orders against you even if you do not appear." In a third case involving restraining orders, The Court of Special Appeals of Maryland was asked to review the standard to be applied when two offenses—one serious and one less so—are merged. In Morgan v. State, 259 A3d 201 (Md. Ct. Spec. App. 2022) the court ruled that "where two offenses arise from the same conduct, and where there is uncertainty as to whether the legislature intended for their sentences to merge, the Rule of Lenity requires that the offense carrying the lesser maximum penalty merges into the offense carrying the greater maximum penalty."
Keywords: "Hague" Child Removal; Restraining Order Violations; Merging Multiple Charges

Affiliations: 1: Contributing Editor; 2: Associate Editor.