Implementation of VAWA 2022 for the Safety of Indian Women
Author: Leslie A. Hagen.
Source: Volume 28, Number 01, October/November 2022 , pp.3-5(3)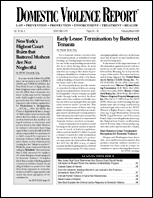 < previous article |next article > |return to table of contents
Abstract:
In 1978, in Oliphant v. Suquamish Indian Tribe, the United States Supreme Court ruled that tribal courts have no criminal jurisdiction over non-Indian offenders. 25 years later, Title IX of VAWA 2013, titled "Safety for Indian Women," and specifically Section 904 of this Title, Tribal Jurisdiction over Crimes of Domestic Violence, amended the Indian Civil Rights Act to "to exercise special domestic violence criminal jurisdiction over all persons." By 2018, 18 tribes were known to have implemented the special domestic violence criminal jurisdiction provisions (SDVCJ). Now, with passage of VAWA 2022, new tribal powers and protections have been recognized. This article reviews these major provisions that include Special Tribal Criminal Jurisdiction whenever either the defendant or the alleged victim is an Indian in offenses include assault of Tribal justice personnel; child violence; dating violence; domestic violence; obstruction of justice; sexual violence; sex trafficking; stalking; and violation of a protection order.
Keywords: Special Tribal Criminal Jurisdiction; VAWA 2022 Title VIII; "Safety for Indian Women"

Affiliations: 1: U.S. Department of Justice.