"Gabby's Mom Got It Right"
Author: Gael Strack.; Casey Gwinn.; David Wexler.
Source: Volume 28, Number 01, October/November 2022 , pp.9-10(2)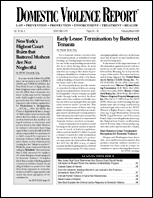 < previous article |next article > |return to table of contents
Abstract:
In August 2021, Gabby Petito disappeared while traveling with her fiancé, Brian Laundrie, on a van journey across the United States. On September 19th, her remains were found in a National Forest in Wyoming. An autopsy determined that she was killed by manual strangulation. About a month later, Brian's remains were discovered in a Florida state park. He died due to a self-inflicted gunshot wound to the head. The FBI later announced that a notebook was found near his remains in which he admitted to killing Gabby. Brian Laundrie's notebook confession was released to the public by his parents through their attorney in June 2022.1 In his notebook, Brian admitted: "I ended her life. I thought it was merciful, that it is what she wanted." Gabby's cause of death had been previously ruled as "manual strangulation" and the manner of death was ruled a homicide by Teton County Coroner Dr. Brent Blue in October 2021. In August, Gabby's Mom, Nichole Schmidt, was interviewed by reporters about Brian's confession. She has been quoted as saying, "That's ridiculous. We know how she died." She said Brian Laundrie was a narcissist. In this article, three experts from Alliance for HOPE International review the basic facts we know about strangulation and men who strangle, itemize the tragic facts of Gabby Petito's murder, analyze the evidence of Laundrie's pathological narcissism, and conclude that "Gabby's Mom Got It Right."
Keywords: Gabby Petito; strangulation; Orme v. State; coercive control

Affiliations: 1: Alliance for HOPE International; 2: Alliance for HOPE International; 3: Alliance for HOPE International.