Supreme Court Abortion Decision Harms Domestic Violence Survivors
Author: D. Kelly Weisberg.
Source: Volume 28, Number 01, October/November 2022 , pp.1-2(2)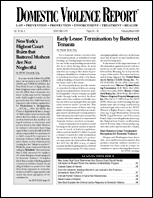 next article > |return to table of contents
Abstract:
This article examines the Supreme Court's decision in Dobbs v. Jackson Women's Health Organization, 142 S. Ct. 2228 (2022), which deprives many women of reproductive choice—the first time in history that the Supreme Court has abrogated a previously recognized fundamental right. DVR's editor argues persuasively that the decision's impact will be especially profound for survivors of intimate partner violence. For some survivors, pregnancy enhances the risk of intimate partner violence, sometimes with fatal consequences. Hundreds of thousands of pregnant women experience intimate partner violence annually and homicide is the most frequent cause of death for pregnant or postpartum women. Intimate partner violence during pregnancy may be harmful to maternal health, as women who are abused during pregnancy often avoid seeing health care providers for fear that the abuse might come to light. And a growing body of research has recognized the connection between intimate partner sexual assault and unintended pregnancies. For these and other reasons, the author maintains, this ruling will "have dire consequences for women's physical safety and well-being."
Keywords: Dobbs v. Jackson Women's Health Organization; Roe v. Wade; Planned Parenthood v. Casey

Affiliations: 1: UC Hastings College of Law.