Case Summaries: Restraining Orders
Author: Anne L. Perry.; Julie Saffren.
Source: Volume 27, Number 06, August/September 2022 , pp.89-93(5)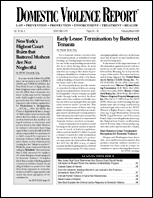 < previous article |next article > |return to table of contents
Abstract:
Our regular review of important court decisions analyzes an important case from California in which a trial court erred in issuing mutual restraining orders when evidence failed to support order against victim (K.L. v. R.H., 285 Cal.Rptr.3d 563; 2021). In another California case, the state supreme court reversed a lower court's denial of restraining order as improper: outmoded concepts ('separation solves everything') and inaccurate beliefs ('your testimony is insufficient without corroboration') were rampant throughout the trial judge's statements (In re Marriage of F.M. & M.M., 279 Cal.Rptr.3d 522; 2021). In a third case involving restraining orders, the Supreme Court of New Hampshire Reversed a trial court's denial of a protective order after the mother went to the husband's home to be with her child over the holidays, necessitated by the trial court's having granted joint decision-making responsibility and joint physical custody of the child. In its decision in S.C. v. G.C., 2022 WL 1482498 (N.H. 2022) the court concluded that the "trial court's reliance on the plaintiff's repeated presence in the defendant's home as the sole basis for its decision regarding the 'credible present threat' element was legal error." We also review an Iowa court of appeals decision reversing the extension of a restraining order where the evidence did not support continuing threat to safety (Hardy-Wilson v. Hadaway, 2021 WL 5475585, Iowa Ct. App. 2021); and a Louisiana decision holding that a denial of motion to dissolve restraining order was proper given continued abuse, Compton v. Chatman, 2022 WL 575326 (La. Ct. App. 2020).
Keywords: Domestic Violence Restraining Orders

Affiliations: 1: Contributing Editor; 2: Associate Editor.