Implementation Challenges Plague Firearm Relinquishment Laws
Author: Julia Weber.
Source: Volume 27, Number 06, August/September 2022 , pp.85-90(6)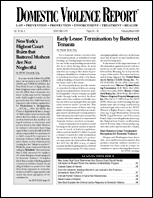 next article > |return to table of contents
Abstract:
Under federal law, people who have been convicted in any court of a "misdemeanor crime of domestic violence," or who are subject to certain domestic violence restraining or protective orders, as defined, are prohibited from purchasing or possessing firearms and ammunition. The federal definition limits prohibitions to a person who is a current or former spouse, parent, or guardian of the victim; shares a child in common with the victim; is a current or former cohabitant with the victim as a spouse, parent, or guardian; or is similarly situated to a spouse, parent, or guardian of the victim. (Under the federal Bipartisan Safer Communities Act of 2022—see the New Federal Legislation and Bruen in this issue of DVR) "serious dating partners" were added to this list. Despite these limitations, a conviction for a misdemeanor crime of domestic violence represents the fourth-most frequent reason for denial of an application to purchase a firearm by the FBI. While these prohibitions are critical, especially in jurisdictions that have no other state prohibitions on firearm ownership or possession in domestic violence cases, a key element is missing: there are currently no federal regulations addressing the firearm relinquishment process. This article examines the important reasons why the state must not only prohibit access to firearms in DV cases but also ensure compliance with these orders by providing for relinquishment and systemic follow-up.
Keywords: Gun Relinquishment; California SB 320; Child Custody and Firearms; Extreme Risk Protection Orders (ERPOs)

Affiliations: 1: Giffords Law Center to Prevent Gun Violence.