DV Hotline Recognizes Six Million Milestone
Author: Marium Durrani.
Source: Volume 27, Number 05, June/July 2022 , pp.81-83(3)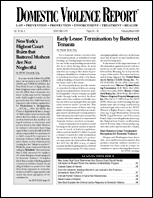 < previous article |next article > |return to table of contents
Abstract:
Since its inception, the National Domestic Violence Hotline (The Hotline) has been the only hotline available 24/7, 365 days a year through phone, chat, and text serving anyone impacted by relationship abuse in the United States and its territories. The Hotline's mission is to shift power back to those who are experiencing relationship abuse. As demand for The Hotline's services has grown, the organization has expanded to reach as many people as possible. December 30 at 2:22 AM CST marked yet another bittersweet milestone in The Hotline's history as it answered its six-millionth contact. The person, who contacted The Hotline via chat, identified as a woman from the Midwest who was experiencing a complex abusive situation. This article, written by the Vice President of Policy for the National Domestic Violence Hotline, surveys the history, mission, services, and statistical measures of effectiveness for this vitally important institution.
Keywords: National Domestic Violence Hotline: Mission, History, Services, Statistics

Affiliations: 1: National Domestic Violence Hotline.