Case Summaries: Massachusetts Domestic Violence and Abuse Leave Act (DVLA)
Author: Anne L. Perry.; Julie Saffren.
Source: Volume 27, Number 05, June/July 2022 , pp.71-73(3)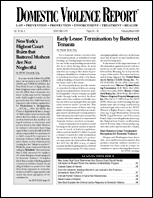 < previous article |next article > |return to table of contents
Abstract:
Our regular review of important court decisions analyzes an important case from Massachusetts involving an employment case filed under the state's Domestic Violence and Abuse Leave Act (DVLA), enacted in 2014 to support victims of abuse and harassment "by easing the additional burdens that are often visited upon them when they undertake to stop the abuse, pursue legal action against their abusers, and rebuild their lives." After being stalked online my an abusive partner, plaintiff was terminated by her employer; she sued under DVLA; charges were dismissed in favor of the employer by the trial court, but reinstated by the Supreme court in Osborne-Trussell v. Children's Hospital Corp. Our editors explain the importance of this ruling for victims of abuse. In other cases analyzed here: a Wisconsin survivor mother wins appeal when court finds father's counseling was insufficient evidence of batterer's treatment to overcome presumption against custody [Marriage of Valadez, 969 N.W.2d 770, (Wis. Ct. App. 2021)]; and in California, domestic violence convictions upheld where evidence admitted in violation of marital privilege ruled harmless [People v. Barefield, 283 Cal. Rptr. 3d 742 (Cal. Ct. App., 3d Dist. 2021)].
Keywords: Massachusetts Domestic Violence and Abuse Leave Act (DVLA); Batterer Treatment Insufficient to Overcome Presumption Against Custody; Marital Privilege Ruled Harmless

Affiliations: 1: Contributing Editor; 2: Attorney and Associate Editor, Domestic Violence Report.