Reset Needed on Parental Alienation
Author: Julie Saffren, JD.
Source: Volume 27, Number 05, June/July 2022 , pp.77-81(5)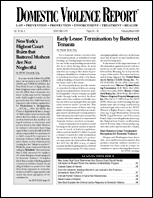 < previous article |next article > |return to table of contents
Abstract:
DVR's associate editor for legal matters reviews a new book by Professors Jean Mercer and Margaret Drew, "Challenging Parental Alienation: New Directions for Professionals and Parents," which makes "crystal clear," on multiple levels, the danger and harm of the entrenchment of the doctrine of parental alienation as well as the weak scientific and legal foundations upon which the concept of the parental alienation belief system rests. Saffren's review is itself a concise discussion of the discredited idea's history and its application at law. As Saffren concludes in this comprehensive analysis, "a more apt book title might have been 'Everything You Thought You Knew About Parental Alienation Is Wrong!'".
Keywords: Parental Alienation Syndrome; Jean Mercer; Margaret Drew; Richard A. Gardner

Affiliations: 1: Associate Editor, Domestic Violence Report.