VAWA Reauthorization Is Signed Into Law
Author: Rebecca Henry.
Source: Volume 27, Number 04, April/May 2022 , pp.49-50(2)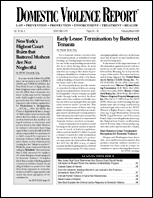 next article > |return to table of contents
Abstract:
This article briefly summarizes the main provisions of the Violence Against Women Act (VAWA) Reauthorization Act of 2022 (VAWA 2022), signed into law by President Joe Biden on March 15, 2022. VAWA is a wide-ranging law, with elements that fall into three basic categories: (1) substantive federal law in areas such as interstate crimes, immigration, firearms, federal prisons, federally subsidized housing, Indian law, federal benefits, civil rights, research studies, etc., which do not expire (and thus do not require reauthorization); (2) grant programs to support state and local victim advocacy, criminal systems, civil legal, prevention, health, housing, economic justice, rural, campus, and population-specific programming, staff, and training, with spending caps that must be reauthorized every five years; and (3) grant program appropriations, which is the actual amount Congress approves each year for spending on authorized programs. The Act generally takes effect with the new fiscal year, beginning October 1, 2022.
Keywords: Violence Against Women Act (VAWA) Reauthorization Act of 2022

Affiliations: 1: ABA Commission on Domestic & Sexual Violence.