Case Summaries: Domestic Violence and the Second Amendment
Author: Anne L. Perry.; Julie Saffren.
Source: Volume 27, Number 03, February/March 2022 , pp.37-38(2)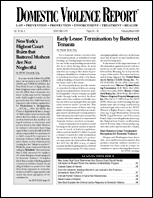 < previous article |next article > |return to table of contents
Abstract:
Our regular review of important court decisions includes appellate rulings that a county's failure to return firearms, removed due to order of protection, after that order was dismissed, resulted in valid Second Amendment claim; and a Fourth Circuit ruling that a ban on firearm possession for domestic violence misdemeanants that does not have good behavior exception, nevertheless does not violate the Second Amendment. Included: Henry v. County of Nassau, 6 F.4th 324 (2d Cir. 2021); Harley v. Wilkinson, 988 F. 3d 766 (4th Cir. 2021).
Keywords: DV Gun Bans; Second Amendment

Affiliations: 1: Contributing Editor; 2: Attorney and Associate Editor, Domestic Violence Report.