IPV Homicide Linked to Pregnancy
Author: Maeve Wallace.
Source: Volume 27, Number 03, February/March 2022 , pp.43-45(3)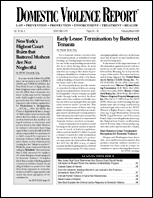 < previous article |next article > |return to table of contents
Abstract:
While considerable attention has been paid to the high rates of maternal mortality (that is, death of a mother in childbirth) in the U.S., decades of research from single cities, states, and sub-national geographies has shown that more pregnant and postpartum women are murdered each year than die from any single obstetric cause of death. This article, written by an epidemiologist, shines a light on these cases of violent maternal death and explores policies and practices that may be effective in preventing them.
Keywords: Pregnancy as an IPV Risk Factor; Racial Inequity in Victimization; Firearms and Other Mechanisms of Injury

Affiliations: 1: Tulane University.