Reauthorization of VAWA: Implications for Restorative Practice and Diversion
Author: Casey Gwinn.
Source: Volume 27, Number 03, February/March 2022 , pp.33-38(6)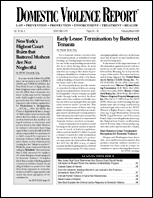 next article > |return to table of contents
Abstract:
As the Senate considers reauthorization of the Violence Against Women Act (VAWA), little known provisions of the current bill passed by the House (HR1620) have avoided public scrutiny. The deeply troubling provisions refer to "Restorative Practice" (without limitations) and include promoting domestic violence diversion (without limitations) for all felony and misdemeanor domestic violence, dating violence, sexual assault, sex trafficking, and stalking offenses under VAWA. This article examines these provisions, which have never been validated in any published research, and their likely consequences if enacted into law.
Keywords: HR 1620 VAWA Reauthorization; "Restorative Practice" and "Restorative Justice" in Domestic Violence Cases

Affiliations: 1: Alliance for HOPE International.