Complete Issue
Author: D. Kelly Weisberg.
Source: Volume 27, Number 02, December/January 2022 , pp.17-32(16)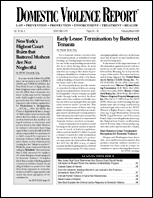 < previous article |return to table of contents
Abstract:
This issue of DVR focuses on elder abuse prevention and prosecutions, and on the "lost" Part 2 of the "Power and Control Wheel" and the benefits of restoring it to its proper place in domestic violence advocacy and education. The complete issue contains all of the articles listed in the table of contents above, plus a brief update on VAWA reauthorization as the bill moves to the Senate Judiciary Committee.
Keywords: Duluth "Power and Control Wheel"; Elder Abuse; Custody Law

Affiliations: 1: Hastings College of Law.