Reviving "Part Two" of the Power and Control Wheel
Author: Tamara Kuennen.; Jennifer Eyl .
Source: Volume 27, Number 02, December/January 2022 , pp.17-20(4)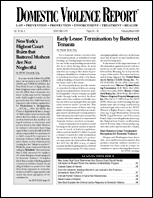 next article > |return to table of contents
Abstract:
The "Power and Control Wheel" is an image with which most of this audience is familiar. But at its inception, it was accompanied by a second part, called "Institutional and Cultural Supports for Battering"—a worksheet that asked survivors to identify the ways in which the abuse in their relationship is supported by institutions and culture. At a moment in history when anti-IPV coalitions are reckoning with their history of indifference to privilege, racism, and other oppressive actions, the authors seek to breathe new life into this forgotten "part two" of the Wheel and the two-part methodology that its creators intended, and provide contemporary academic researchers and advocates with a deeper understanding of why this part disappeared.
Keywords: Institutional and Cultural Supports for Battering; Duluth Project

Affiliations: 1: University of Denver Sturm College of Law; 2: Project Safeguard.