California Court of Appeal Cases Mark Important Victories for Survivors and Advocates
Author: Anne L. Perry.; Julie Saffren.
Source: Volume 27, Number 01, October/November 2021 , pp.3-5(3)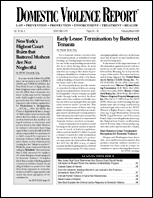 < previous article |next article > |return to table of contents
Abstract:
As "de-publication" of opinions becomes more widespread across federal and state courts, fewer cases are certified for publication. An unpublished opinion cannot be cited or relied upon by other courts and does not represent binding precedent. Published cases represent changes, modifications, or clarification to existing law, so these cases become part of the body of law used in future decisions. An unpublished opinion can become published, if the court so rules, typically after someone requests publication. California has a broad network of domestic violence prevention and advocacy organizations, providing immediate assistance to victims, as well as seeking long-term legal, public policy, and criminal justice solutions. Some of these agencies (such as the Family Violence Appellate Project) represent survivors in appeals for free and identify and request publication of unpublished cases. All California Supreme Court decisions are published, while fewer than 10% of Court of Appeal decisions meet the criteria for publication. In the first half of 2021, the appellate courts in California saw a number of victories for domestic violence survivors that were earmarked for publication. Because these cases are published, they represent legally binding precedent throughout California and can be used to secure greater protections for survivors.
Keywords: Restraining Orders; Hague Decisions; Gun Prohibitions and DV Convictions

Affiliations: 1: Contributing Editor; 2: Associate Editor.