Complete Issue
Author: D. Kelly Weisberg.
Source: Volume 26, Number 06, August/September 2021 , pp.81-96(16)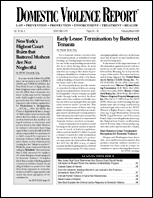 < previous article |return to table of contents
Abstract:
The complete issue contains all of the articles listed in the table of contents above, plus a brief announcement that Domestic Violence Report has been named the 2021 Hope Rising Award, presented at the 21st Annual International Family Justice Center Conference; the award recognizes journalists from all backgrounds who have helped advance awareness, training, and policy change around domestic and sexual violence, child abuse, elder abuse, and human trafficking.
Keywords: Internet of Things (IoT) Devices; Protection Orders; U.K. Family Court Cases; VOCA Fix

Affiliations: 1: UC Hastings College of Law.