VOCA Fix Signed Into Law
Author: D. Kelly Weisberg.
Source: Volume 26, Number 06, August/September 2021 , pp.96-96(1)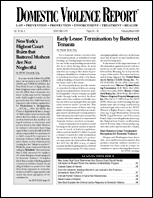 < previous article |next article > |return to table of contents
Abstract:
This article briefly summarizes the main provisions of the VOCA Fix to Sustain the Crime Victims Fund Act of 2021 (VOCA Fix), signed into law in July 2021. VOCA grants are the primary source of federal funding for thousands of victim service providers around the country. The legislation remedied an ongoing crisis is the provision of victim services. VOCA grants suffered a decrease of 70% over the last four years as the Department of Justice (DOJ) brought far fewer federal criminal cases. Instead, the DOJ entered into more deferred prosecution and non-prosecution agreements. That policy resulted in defendants' fines being diverted into the General Treasury rather than the CVF, leading to the loss of billions of dollars. The VOCA Fix addresses this crisis by redirecting revenues from the non-prosecution and deferred prosecution agreements into the CVF, and thereby making the funds available for victim services.
Keywords: VOCA Fix

Affiliations: 1: UC Hastings College of Law.