Case Summaries: Murder Convictions Upheld
Author: Anne L. Perry.; Julie Saffren.
Source: Volume 26, Number 05, June/July 2021 , pp.67-72(6)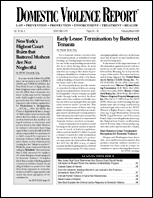 < previous article |next article > |return to table of contents
Abstract:
Our regular review of important court decisions includes appellate rulings turning back challenges to successful domestic abuse convictions; the challenges involved claims of warrantless searches; Alford pleas; admissibility of prior acts; ineffective assistance of counsel; and unlawful termination of parental rights. Included are an Illinois murder conviction that was upheld over challenge to warrantless search (People v. Kulpin, 2021 WL 423467 (Ill Ct. App. 2021)); an Ohio case in which a guilty plea to felonious assault following attempted murder was ruled voluntary despite perpetrator not agreeing to all facts (State v. May, 2021 WL 321845 (Ohio Ct. App. 2021)); a Georgia case in which a murder conviction upheld over a challenge to admission of other acts of domestic violence to show a shooting was intentional (Harrison v. State, 2021 WL 769403 (Ga. 2021)); Ohio and Georgia cases in which convictions for murder, attempted murder, and breaking and entering were upheld over claim of ineffective assistance of counsel (State v. Lucas, 2021 WL 631241 (Ohio Ct. App. 2021) and Guzman- Perez v. State, 853 S.E.2d 76 (Ga. 2020)); and a Delaware court ruling affirming the termination of parental rights after the father's conviction for murdering the child's mother (Butler v. Evans, 2021 WL 245258 (Del. 2021).
Keywords: Warrantless Searches; Alford pleas; Admissibility of Prior Acts; Ineffective Assistance of Counsel; Termination of Parental Rights

Affiliations: 1: Contributing Editor; 2: Associate Editor.