Turkey Leaves Landmark Treaty
Author: D. Kelly Weisberg.
Source: Volume 26, Number 05, June/July 2021 , pp.78-79(2)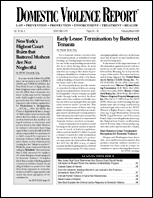 < previous article |next article > |return to table of contents
Abstract:
Turkey has withdrawn from the "Istanbul Convention," the landmark European human rights treaty addressing violence against women. This article briefly reviews the scope and enforcement mechanisms of the treaty (officially, Council of Europe (CoE) Convention on Preventing and Combating Violence Against Women and Domestic Violence), and the response to Turkish President Recep Tayyip Erdogan's termination of Turkey's adherence.
Keywords: Istanbul Convention

Affiliations: 1: UC Hastings College of Law.