House of Representatives Passes VAWA Reauthorization Bill
Author: D. Kelly Weisberg.
Source: Volume 26, Number 05, June/July 2021 , pp.65-74(10)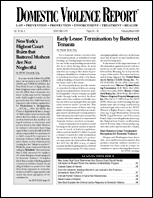 next article > |return to table of contents
Abstract:
The House of Representatives passed the Violence Against Women Reauthorization Act (VAWA) on March 17, 2021. Although the law lapsed in 2018, Congress continues to fund related programs. The bill now awaits passage in the Senate. This article comprehensively reviews the most important provisions of the legislation. The most contentious issues in the House version are firearm provisions and transgender protections. The House version would bar an individual from buying a gun who has a misdemeanor conviction of domestic abuse or stalking and also expands the definition of prohibited firearm purchasers to include dating partners (i.e., close the "boyfriend loophole"). In addition, the House bill would strengthen existing protections for transgender women to access women's shelters.
Keywords: Violence Against Women Reauthorization Act

Affiliations: 1: UC Hastings College of Law.