Diminished Access to Islamic Divorce for Domestic Violence Survivors
Author: Veena Bhatia.
Source: Volume 26, Number 04, April/May 2021 , pp.51-52(2)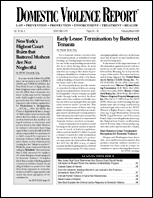 < previous article |next article > |return to table of contents
Abstract:
This article examines the challenges faced by Muslim women in India who seek to extricate themselves from abusive marriages through divorce. For women survivors of domestic violence, divorce is an important exit strategy. However, divorce in India is considerably easier for men to obtain than it is for women under Sharia law, the Islamic religion's legal system. This article examines several dimensions of survivors' diminished access to divorce in India, specifically the domestic-violence-related implications of a Sharia practice allowing easy divorce.
Keywords: Divorce under Sharia Law; Triple-talaq; India's Family Law System

Affiliations: 1: UC Hastings College of Law.