Coercive Control Is Finally Engrained in American Law
Author: Julie Saffren.
Source: Volume 26, Number 04, April/May 2021 , pp.49-51(3)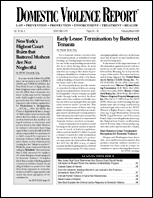 next article > |return to table of contents
Abstract:
Coercive control is an important feature of domestic violence. The concept was introduced in 2007 through the work of Dr. Evan Stark, author of "Coercive Control: The Entrapment of Women in Personal Life" (Oxford, 2007). Since then, Dr. Stark's groundbreaking contribution to the social science of interpersonal violence has influenced law and policy across the world in both the criminal and civil law contexts. France led the way by criminalizing "psychological abuse in a marriage" more than a decade ago. That reform was followed by legislation in the United Kingdom and Wales, Ireland and Scotland, and Canada. In the U.S., Hawaii and California have recognized coercive control in their criminal statutes, and other states including New York, Maryland, and South Caroline, are considering bills. This article examines a range of legislative initiatives now underway among the states, how they differ from one another, and how the courts are interpreting existing statutes and recognizing coercive control in jurisdictions with and without specific statutes addressing the issue.
Keywords: Coercive Control Statutes

Affiliations: 1: Santa Clara Univ School of Law.