Complete Issue
Author: D. Kelly Weisberg.
Source: Volume 26, Number 03, February/March 2021 , pp.33-48(16)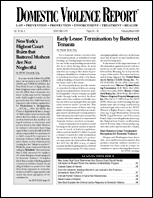 < previous article |return to table of contents
Abstract:
This is the second of two issues we are devoting to the challenge of addressing societal/systemic racism in the context of criminal justice reform. Articles in this issue provide a rebuttal to calls to "decriminalize domestic violence" (the idea of moving away from the use of the criminal justice system to hold domestic violence offenders accountable). The complete issue contains all of the articles listed in the table of contents above.
Keywords: DV and Bail Reform; Racial Injustice; Duluth Model; Community-Focused Justice

Affiliations: 1: Hastings College of Law.