Case Summaries
Author: Anne L. Perry.; Julie Saffren.
Source: Volume 26, Number 03, February/March 2021 , pp.45-48(4)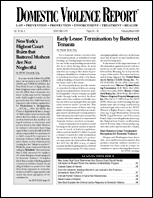 < previous article |next article > |return to table of contents
Abstract:
Our regular review of important court decisions includes a ruling from the Second Circuit (Grano v. Martin, 821 Fed. Appx. 26 (2d Cir. 2020)), illustrates how the Hague Convention, adopted to protect children from wrongful abductions, is applied by U.S. courts in a manner that minimizes the impact of domestic violence on children; in California (In re J.M., 263 Cal. Rptr. 3d 687 (Cal. Ct. App. 2020)), in which the termination of mother's reunification services was reversed where she addressed domestic violence issues; in North Dakota(Thomas v. Thomas, 937 N.W.2d 554 (N.D. 2020)), in which a presumption against custody for abusive parent (in this case, the mother) not triggered by merely two instances; and two cases from Alaska: (Clarence S. v. Samantha S., 2020 WL 5651845 (Alaska 2020)), in which the state's highest court upheld a superior court ruling that Father had committed multiple acts of domestic violence, triggering the statutory presumption against custody, and that therefore Father could be granted only supervised visitation; and Daniel H. v. Amber G., 2020 WL 3069758 (Alaska 2020), a ruling that a father was entitled to a new custody hearing based on allegations that mother committed custodial interference, a crime of domestic violence.
Keywords: Hague Convention; Family Reunification Services; Statutory Presumption against Custody

Affiliations: 1: Contributing Editor; 2: Associate Editor.