We Cannot Forget Racial Injustice Nor Can We Forget Dangers Facing Women
Author: Jacquelyn Campbell, PhD, RN.
Source: Volume 26, Number 03, February/March 2021 , pp.33-35(3)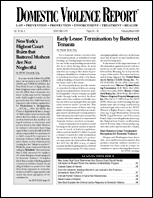 next article > |return to table of contents
Abstract:
This article examines the difficult paradox confronting abused women and the advocates and agencies seeking to help them. On one hand, it is an unfortunate truth that batterer intervention programs are generally ineffective, and that when a crisis arises, the police are the most effective intervention available. On the other hand, abused victims don't want the justice system involved if it can be avoided—no cops, no courts, no jail, especially if they are Black. Jacquelyn Campbell, Ph.D., RN, is the Anna D. Wolf Chair and a Professor in the Johns Hopkins University School of Nursing with a joint appointment in the Bloomberg School of Public Health. She is also the National Program Director of the Robert Wood Johnson Foundation Nurse Faculty Scholars program. Dr. Campbell has conducted advocacy policy work and research in the area of violence against women and women's health, publishing more than 220 articles and seven books. She has received many awards, including the Alliance for HOPE International Lifetime Achievement Award.
Keywords: Homicide; Structural Racism; Trauma and Healing

Affiliations: 1: Johns Hopkins University School of Nursing.