Case Summaries: Convictions, Protective Orders Upheld
Author: Anne L. Perry.; Julie Saffren.
Source: Volume 26, Number 02, December/January 2021 , pp.23-26(4)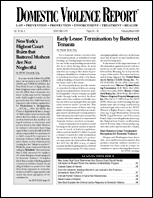 < previous article |next article > |return to table of contents
Abstract:
Our regular review of important court decisions includes a ruling from Washington (State v. Heutink, 458 P.3d 796, Wash. Ct. App. 2020), in which a conviction was upheld for stalking, violation of protection order, over claims of constitutional, evidentiary errors; in California (Nicole G. v. Braithwaite, 49 Cal. App. 5th 990, Cal. Ct. App. 2020), in which a court properly excluded abuser from co-owned property, even where protected party had already moved out for her own safety, and ownership was disputed; in Indiana (S.H. v. D.W., 139 N.E.3d 214, Ind. 2020), a two year extension of original protection order reversed and vacated where there was no present evidence to support risk of further harm; in Ohio (J.M. v. L.J., 2020 WL 5509071, Ohio Ct. App. 2020), modification of protection order reversed where reduction from five years to two years was not supported by the record.
Keywords: Protective Orders Upheld; DV and Property Ownership

Affiliations: 1: Contributing Editor; 2: Associate Editor.