Survivors' Voices on Law Reform
Author: Chan M. Hellman.; Casey Gwinn, J.D..; Gael Strack.
Source: Volume 26, Number 02, December/January 2021 , pp.28-30(3)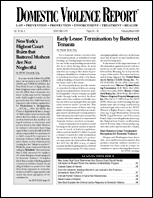 < previous article |next article > |return to table of contents
Abstract:
The current climate in the U.S. is focused on efforts to promote criminal justice reform, bail reform, and defunding the police. Before social policy is influenced and changed within the domestic violence movement, the voices of survivors must be considered. With that end in mind, the authors conducted an anonymous web-based survey of a sample of 153 survivors of domestic violence during the late summer of 2020. This article summarizes the results; the authors collaborated with a group of domestic violence survivors who are part of the national Family Justice Center VOICES Committee. The research findings indicate that survivors (both BIPOC and White) do not support defunding the police, bail reform, decriminalizing domestic violence, or criminal justice reform when it involves domestic violence. In contrast, they want law enforcement to do more and do better.
Keywords: Domestic Violence and Defunding the Police, Bail Reform, Decriminalizing Domestic Violence, and Criminal Justice Reform

Affiliations: 1: University of Oklahoma; 2: Alliance for HOPE International; 3: Alliance for HOPE International.