Another Perspective on "The Moment of Truth"
Author: Casey Gwinn, J.D..; Gael Strack.
Source: Volume 26, Number 02, December/January 2021 , pp.17-21(5)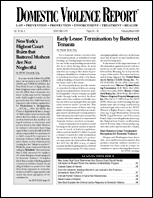 next article > |return to table of contents
Abstract:
On June 20, 2020, the Washington State Coalition Against Domestic Violence, with the support of 46 other state and territory domestic violence coalitions published a statement entitled "The Moment of Truth." Their statement, included in this Special Issue of Domestic Violence Report, focused on the failures of the domestic violence movement led by white Leaders, to fully address systemic and structural racism, disparate impacts of the criminal justice system on communities of color, along with a commitment to support major public policy and practice changes around their responses to domestic violence in the United States. It is a thoughtful, heartfelt acknowledgement of the failures of organizations and policies over the last 30 years, including the critical importance of intersectionality in many of the challenges we face today in this country. Unfortunately, the statement did not include any discussion of the rights of victims, the desires of victims, the research around current trends in domestic violence homicides, familicides, and murder-suicides, and the ongoing challenge of holding men who commit acts of domestic violence accountable for their criminal conduct. The statement ignored the crucial importance of the rule of law in democratic societies, the enormous volumes of research on effective community and social service programs in stopping men's violence against women, and the vast amount of research documenting the positive impacts of the Violence Against Women Act (VAWA) since 1994. This article looks comprehensively at the strategies, achievements, and continuing efforts of the domestic violence movement, arguing that reducing funding for policing will ultimately undercut efforts to combat and prosecute domestic violence.
Keywords: Washington State Coalition Against Domestic Violence; Support for Police Enforcement of DV Law; Decriminalization of Domestic Violence

Affiliations: 1: Alliance for HOPE International; 2: Alliance for HOPE International.