Teenage Star of "Audrey and Daisy" Dies of Suicide
Author: Megan Amanda Miller, J.D., LMHC.
Source: Volume 26, Number 01, October/November 2020 , pp.11-11(1)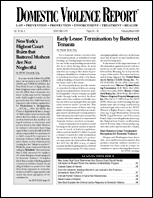 < previous article |next article > |return to table of contents
Abstract:
The film "Audrey and Daisy" highlighted the impact of social media on teenage sexual assault survivors and their families. The Netflix documentary from 2016 was directed by Bonni Cohen and John Shenk and reviewed in DVR in April/May 2017 (v. 22, no. 4). The film depicts the stories of two teenage victims of sexual assault, Audrey Powell and Daisy Coleman. Audrey died by suicide before the film. The other teenager, Daisy Coleman, survived several years after her rape. Sadly, Daisy died by suicide on August 4, 2020. She was 23 years old.
Keywords: "Audrey and Daisy"

Affiliations: 1: Attorney.