New York COVID-19 Task Force Recommendations: Domestic Violence Interventions Post-COVID-19
Author: Megan Amanda Miller, J.D., LMHC.
Source: Volume 26, Number 01, October/November 2020 , pp.5-6(2)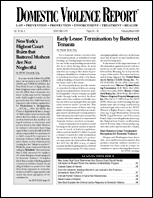 < previous article |next article > |return to table of contents
Abstract:
Since Covid-19, the New York State Domestic and Sexual Violence Hotline experienced 33% more calls in April 2020 than in April 2019. Shelter occupancy rates rose in that state from 59% in April 2019 to 78% in April 2020. The actual increase in cases, both in New York and globally, is likely much higher. In May Secretary to the Governor Melissa DeRosa and the New York State Council on Women and Girls established a Task Force to identify solutions to the state's spike in domestic violence. Governor Andrew M. Cuomo directed the Task Force to address the pandemic's impact on domestic violence survivors by reimagining how services might be provided. This article examines The Task Force recommendations, which may assist other jurisdictions in establishing guidelines for the protection of abused women and children during extended quarantine isolation.
Keywords: Mobile Advocacy; Flexible Funding; Housing Choice

Affiliations: 1: Attorney.