Danger Behind Closed Doors: How Covid-19 Precautions Affect Victims of Intimate Partner Violence
Author: Leanna Stoufer.
Source: Volume 25, Number 06, August/September 2020 , pp.105-107(3)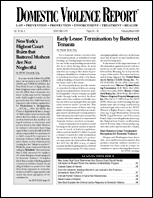 < previous article |next article > |return to table of contents
Abstract:
Written by a front-line advocate, this article explores the ways in which the trauma experienced by DV victims is compounded by COVID-19 precautions that, in normal situations, are reasonable, but which can become deadly when abuser, victim, and children are all trapped under one roof.
Keywords: Power and Control Wheel; Isolation; Threats and Intimidation; Financial Abuse

Affiliations: 1: Project Safeguard.