Domestic Violence, A Pandemic Within a Pandemic: Where Is There a Beacon of Hope?
Author: Casey Gwinn.
Source: Volume 25, Number 06, August/September 2020 , pp.103-105(3)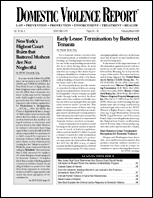 < previous article |next article > |return to table of contents
Abstract:
Long before COVID-19 became a pandemic, there was another pandemic circulating in every country around the world—domestic violence. That pandemic is now dramatically increasing in the face of the novel coronavirus, and its impacts are being felt in powerful and destructive ways. UN Secretary General Antonio Guterres said in a public statement: "I urge all governments to make the prevention and redress of violence against women a key part of their national response plan to COVID-19." Not all leaders have taken such action. This article examines various government responses—both those that have taken account of the potential for sheltering-in-place to worsen conditions for victims of DV, and those who have ignored these threats—and highlights positive protective strategies that should be a part of every state's response to COVID-19.
Keywords: Escalating Murder-Suicides Rates; Emotional and Psychological Support for Victims and Staff

Affiliations: 1: Alliance for HOPE International.