Review: "No Visible Bruises" by Rachel Louise Snyder
Author: Julie Saffren.
Source: Volume 25, Number 04, April/May 2020 , pp.74-75(2)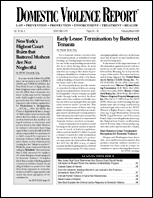 < previous article |next article > |return to table of contents
Abstract:
Reviews for "No Visible Bruises: What We Don't Know About Domestic Violence Can Kill Us" by Rachel Louise Snyder were filled with superlatives upon the book's release last summer. The New York Times hailed it as "extraordinary." The Washington Post found it "compulsively readable." The Chicago Tribune called it "important" while The Guardian called it "explosive." These superlatives were deserved. But so too was the range of criticisms that the book received. Snyder was criticized for insufficiently addressing issues like race, poverty, and intersectionality. One commentator bemoaned her "focus on the experiences of white women" while another challenged her seeming acceptance of gender inequality as the primary factor animating violence against women, giving short shrift to how "battered women's oppression is multiplied by their locations at the intersections of race, ethnicity, class, gender and sexual orientation." Experts took her to task for nomenclature, some for her usage of the term "intimate partner terrorism" which if one is referring to Michael Johnson's typology, may be validly challenged for a lack of evidentiary social science support. Others objected to her use of the term "terrorism" to reframe the description of the victim's experience, when for many, that freighted term contributes to punitive overreactions that disproportionately impact certain immigrant communities and ethnic groups. Can one book be all these things simultaneously? The answer can be yes, if we keep in mind Snyder's own words—"I didn't write it for experts. I wrote it for the lay person, who knew nothing about domestic violence but assumed everything." In this book review, Julie Saffren highlights what the lay person stands to gain from No Visible Bruises, and what experts, advocates, system professionals, fatality review team members, and others may take away as well.
Keywords: Popular Beliefs vs. Experts' Understanding of Domestic Violence

Affiliations: 1: Associate Editor.