Case Summaries
Author: Annie L. Perry.; Julie Saffren.
Source: Volume 25, Number 04, April/May 2020 , pp.72-75(4)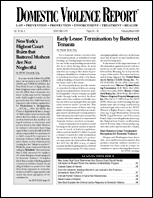 < previous article |next article > |return to table of contents
Abstract:
Our regular review of DV-related court decisions includes Martinez v. City of Clovis, 943 F.3d 1260 (9th Cir. 2019), an important decision that should result in updates to local law enforcement protocols regarding the response to domestic violence, with particular emphasis on officer-initiated domestic violence; Romero v. Brown, 937 F.3d 514 (5th Cir. 2019), in which the circuit court ruled that a claim against protective services can proceed where children were removed due to domestic violence without court order or exigent circumstances; and People v. Sexton, 250 Cal. Rptr. 3d 496 (Ct. App. 2019), in which the California Court of Appeals ruled that the judge's jury instructions regarding expert testimony explaining why the defendant's wife would remain in the home in spite of her husband's history of abuse toward her, was proper.
Keywords: Police-involved domestic violence; removal of children by protective services; jury instructions

Affiliations: 1: Contributing Editor; 2: Associate Editor.