Domestic Violence in the Music Industry: The Case of R. Kelly
Author: Maya Galicia-Canto .
Source: Volume 25, Number 04, April/May 2020 , pp.71-75(5)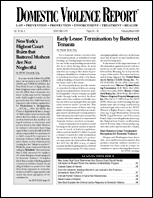 < previous article |next article > |return to table of contents
Abstract:
This article reviews the docu-series "Surviving R. Kelly," aired in 2019, which explored allegations of intimate partner violence against the American singer, Robert "R." Kelly. The series not only gave the survivors a platform to share their stories, but also masterfully wove these stories into a bigger conversation about how the music industry, and society as whole, treats abuse.
Keywords: Surviving R. Kelly; #MuteRKelly

Affiliations: 1: Hastings College of the Law .