Complete Issue
Author: D. Kelly Weisberg.
Source: Volume 25, Number 03, February/March 2020 , pp.45-68(24)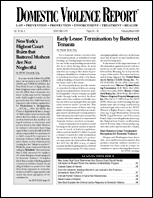 < previous article |return to table of contents
Abstract:
This special issue is devoted to the intersections between Traumatic Brain Injury (TBI) and Domestic Violence. Survivors commonly suffer repeated blows to the head and strangulation. This frequent, undiagnosed problem has significant long-term health implications. This special issue includes articles by prominent experts in the country, including Jacquelyn Campbell and Eve Valera who, in their respective articles, discuss the implications of TBI screening for mental health and legal professionals, Rachel Ramirez who discusses innovative services of the Ohio state domestic violence coalition, and Gael Strack and Casey Gwinn who explain the role of Family Justice Centers in formulating a multi-sector approach to meet survivors' physical health, behavioral health, and social service needs. The complete issue contains all of the articles listed in the table of contents above.
Keywords: Traumatic Brain Injury (TBI); TBI Assessment and Treatment in Abused Women; Computed Tomography Angiography (CTA); Mild Traumatic Brain Injuries (mTBI); Assessing Alteration in Consciousness (AIC)

Affiliations: 1: Hastings College of Law.