PINK Concussions Task Force Brings Together Brain Injury and DV/IPV Experts
Author: Katherine Snedaker.
Source: Volume 25, Number 03, February/March 2020 , pp.51-54(4)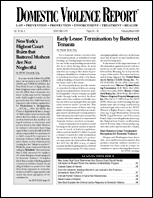 < previous article |next article > |return to table of contents
Abstract:
The numbers of women who have brain injury inflicted by a violent partner are estimated to be staggeringly high—higher than NFL players or those who injured in military service. As brain injury from domestic violence/intimate partner violence (DV/IPV) has been rarely discussed in medical conferences or in news stories, an international taskforce was launched in 2019, by the non-profit, PINK Concussions, to change the status quo. This article discusses the origins, mission, and available resources of this taskforce as it serves to connect brain injury researchers and frontline DV/IPV practitioners worldwide as well as serve as a resource for reporters writing articles on this topic. PINK Concussions was originally founded in 2012 as a website to serve as an information hub to being together brain injury research from the sport, domestic violence, and military research silos. PINK Concussions hosted the first stand-alone medical research summit on brain injury in women which included experts presenting brain injury research from the sports, domestic violence, and military fields.
Keywords: Brain Injury in Women; PINK Concussions; Partner-Inflicted Concussions Task Force

Affiliations: 1: PINK Concussions.