Ohio Coalition Works to Address Brain Injury in DV Programs
Author: Rachel Ramirez, LISW-S, RA.
Source: Volume 25, Number 03, February/March 2020 , pp.58-63(6)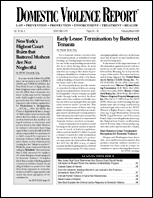 < previous article |next article > |return to table of contents
Abstract:
Domestic violence programs provide safety, support, and life-saving services. It is critically important that all domestic violence survivors, including those with disabilities, can access and benefit from program services. In recognition of the importance of addressing mental health and brain injury disabilities, the Office on Victims of Crime Vision 21 Initiative selected the Ohio Domestic Violence Network (ODVN) as one of two coalitions in the United States to implement this work through its grant project, OVC FY 2016 Enhancing Access and Attitudinal Changes in Domestic Violence Shelters for Individuals With Disabilities (2016-XV-GX-K012). This article examines how ODVN planned, developed, and implemented program services focused on brain injury. The ODVN used two strategies for this project: (1) equipping local DV program staff to accommodate the needs of survivors and (2) building collaboration with agencies and organizations that work with mental health and brain injury to increase access to services. Due to the requirements of the project, ODVN, in collaboration with research partner The Ohio State University, pursued Institutional Review Board (IRB) approval from the Ohio State University to oversee the research and evaluation of this grant. This allows ODVN to share these findings from the field that has the potential to transform crime victim services.
Keywords: Ohio Domestic Violence Network (ODVN); Brain Injury, Mental Health, and DV

Affiliations: 1: The Center on Partner-Inflicted Brain Injury (ODVN).