Uncertain Intent: The Difficulties of Applying a Shared Intent Analysis for Habitual Residence to Infants in Families with Domestic Violence
Author: Joan Meier.; Bryan Walsh.
Source: Volume 25, Number 01, October/November 2019 , pp.1-4(4)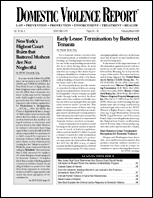 next article > |return to table of contents
Abstract:
Michelle Monasky met and married her husband Domenico Taglieri in Illinois. After he returned to Italy, she followed him five months later. She soon discovered that he was physically, emotionally, and sexually abusive. In her last trimester of pregnancy, Monasky was under travel restrictions forbidding her to fly, forcing her to stay in Italy. Despite Monasky's pregnancy complications, the physical and psychological abuse continued. During her ninth month of pregnancy Taglieri beat Monasky over the head. On the night of the birth he refused to take her to the hospital. The parties had discussed divorce on and off. They jointly applied for the baby's passport before she was born, and Taglieri even told Monasky at one point to take the baby to the United States. They had not lived in the same town since the beginning of Monasky's pregnancy, but Monasky needed help after the birth and moved into his apartment three hours away. Two weeks later, however, after another frightening incident, she fled, went to the police and reported domestic violence, and went to a domestic violence shelter with her newborn. The day the baby's passport issued, Monasky and the baby got on a plane home to Ohio. Taglieri filed a request to terminate her parental rights, which was granted by the Italian court ex parte. He then filed in the Ohio federal district court under the Hague Convention on the Civil Aspects of International Child Abduction (Hague Convention) to compel A.M.T.'s return to Italy. The Hague Convention was adopted to deter child abduction by requiring the return of children who are removed from their home country by one parent without consent of the other. The foundational requirement for such a return is that the petitioner must prove that the country from which the child was taken was the child's "habitual residence." In Taglieri v. Monasky, the District Court ruled that Italy was eight week old A.M.T.'s habitual residence, because—while she was too young to experience anything as habitual—the parents "shared" an "intent" to raise the baby in Italy. According to the court, although Monasky could not speak Italian, she had applied for a driver's license, created a "marital home" in Italy, and taken some additional steps contemplating a future in the country. The court so ruled, despite recognizing that Monasky fully intended to leave Italy as soon as the infant's passport was available. After an appeal to the Sixth Circuit Court of Appeals, the return order was upheld, and 18 month old A.M.T., who had never met her father and did not speak Italian, was removed from her mother and placed with Taglieri and his Italian-speaking extended family. Although Monasky has repeatedly sought some custody and access to her child, the Italian courts, to this day, have refused to hold a single hearing to address her rights.10 On June 10, 2019, the United States Supreme Court granted Monasky's petition for writ of certiorari and will hear the case during its 2020 term.
Keywords: International Child Abduction;Hague Convention; Monasky v. Taglieri

Affiliations: 1: George Washington University Law School; 2: George Washington University Law School.