Dee's Journey: A Walk of Tribute
Author: Julie Saffren.
Source: Volume 24, Number 04, April/May 2019 , pp.55-56(2)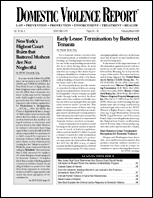 < previous article |next article > |return to table of contents
Abstract:
Deirdre "Dee" Fournier of Sunland, California is embarking on a singular path to healing, a coast-to-coast walk of some 5,000 miles through 13 states to pay tribute to Dee's sister Julianne Fournier Stimus, who was shot and killed in 2002 by her estranged husband, Aaron Stimus, in front of her Florida home. She expects the trip, which begins in Point Reyes, California and ends at Cape Henlopen, Delaware, to take about one year, allowing ample time to stop along the way to speak with DV survivors in battered women shelters.
Keywords: Risk when a relationship is ending

Affiliations: 1: Law Foundation of Silicon Valley.