Another "Spillover Effect" of Domestic Violence: Threats and Violence Against Family Law Practitioners
Author: Stephen D. Kelson.
Source: Volume 24, Number 04, April/May 2019 , pp.53-57(5)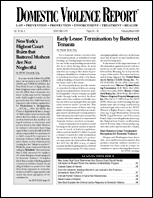 < previous article |next article > |return to table of contents
Abstract:
Family law attorneys regularly become the target of threats and violence due to their representation in domestic disputes, sometimes with tragic outcomes. Based on the infrequent publicized reports of threats and violence against the legal profession, one might think that such incidents are unique and extremely rare. However, threats and violence against the legal profession, including those against family law practitioners, is a real and serious issue, and may be increasing. Family law practitioners face a disproportionate amount of threats and violence compared to many other areas of practice, and the "spillover effect" of domestic violence increases the chance of threats and violence against the victim's attorney. This article examines some recent incidents, summarizes data on threats to lawyers, and explores protective strategies for attorneys and abuse victims alike.
Keywords: Divorces, child custody disputes, termination or determination of parental rights

Affiliations: 1: Christensen & Jensen, P.C..