The Spillover Effect of Domestic Violence: Workplace Violence in America
Author: D. Kelly Weisberg.
Source: Volume 24, Number 04, April/May 2019 , pp.53-56(4)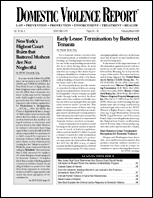 next article > |return to table of contents
Abstract:
Domestic violence is characterized by a "spillover effect" when the intimate partner violence spills over from the private setting of the home into more public settings. This article examines domestic-violence-related (DV-related) homicides that occur in the workplace—important and dangerous because the workplace offers the abuser predictable access to the victim, and leaves employees in abusive intimate relationships especially vulnerable to assaults.
Keywords: Workplace homicide; lax enforcement of firearms laws; job loss due to domestic violence; protective measures against employment discrimination

Affiliations: 1: Hastings College of Law.