Forfeiture by Wrongdoing: A Successful Prosecution
Author: Shannon Archer.
Source: Volume 24, Number 03, February/March 2019 , pp.39-41(3)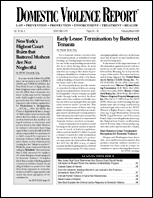 < previous article |next article > |return to table of contents
Abstract:
Shannon Archer is a prosecuting attorney with the Polk County Attorney, Des Moines Iowa. In this article, Archer describes the prosecution of a serious domestic assault in which the victim was too terrified to testify against her partner, and so the prosecution team tried the case using an evidence-based strategy. These cases are difficult to try, especially in light of the restrictions established by the Supreme Court in Crawford v. Washington, which held that out-of-court testimonial statements of an unavailable witness (such as a victim who is reluctant to appear in court) are not admissible unless the defendant was given a prior opportunity to cross-examine the witness. The key to a successful prosecution in this case hinged on the doctrine of "forfeiture by wrongdoing," a concept adopted by the Iowa Supreme Court and applied in the case here.
Keywords: "Forfeiture by wrongdoing" principle; State v. Hallam

Affiliations: 1: Assistant County Attorney, Polk County, Iowa.