Case Summaries: Sentencing Assault and Domestic Violence Convictions
Author: Annie L. Perry.; Julie Saffren, J.D..
Source: Volume 24, Number 02, December/January 2019 , pp.29-30(2)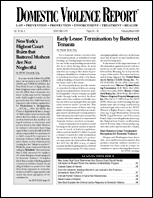 < previous article |next article > |return to table of contents
Abstract:
Often the same criminal conduct results in the commission of more than one crime; in a case from Ohio (State v. Bradley, 2018 WL 3814513), a defendant was found guilty at trial of felonious assault and domestic violence and, as analyzed here, an appellate court upheld the trial court's sentencing for two crimes that, defendant argued, were similar in effect and should have been merged into a single sentence. In a Nevada case (State v. Second Judicial District Court, 421 P.3d 803), the Nevada Supreme Court held that prior domestic violence convictions could be considered in statutory sentencing for repeat offenders.
Keywords: Concurrent Sentences; Charging and Sentence Enhancement for Repeat Offenders

Affiliations: 1: Contributing Editor; 2: Associate Editor.